US actress Ariana DeBose said the heroine in Disney's upcoming animated film Wish is about trying to make the world a better place rather than "trying to find her prince".
The Academy Award winner, 32, led stars at the UK premiere of the musical-comedy at the Odeon Luxe in London's Leicester Square on Monday, ahead of the film's release on November 24.
The film follows "sharp-witted idealist" Asha (DeBose) who must save her kingdom from King Magnifico (Chris Pine) after making a wish so powerful it is answered by a cosmic force called Star.
DeBose said she found voice acting "challenging and stimulating", but also "very freeing" as it required her to maximise her imagination and her creativity.
She told the PA news agency on the blue carpet: "My favourite thing about this script and about Asha herself is that it is all about identifying a problem and then doing the work to find a solution, even if it takes time and even if you make mistakes along the way.
"This girl doesn't give up and her wish is not for herself, it is for her community and I think that is such a beautiful thing and a departure from many of the historical Disney princesses and heroines.
"She's not trying to find her prince, it's not necessarily about the ambition to start a business, but it is about the ambition to make the world a better place and that's cool."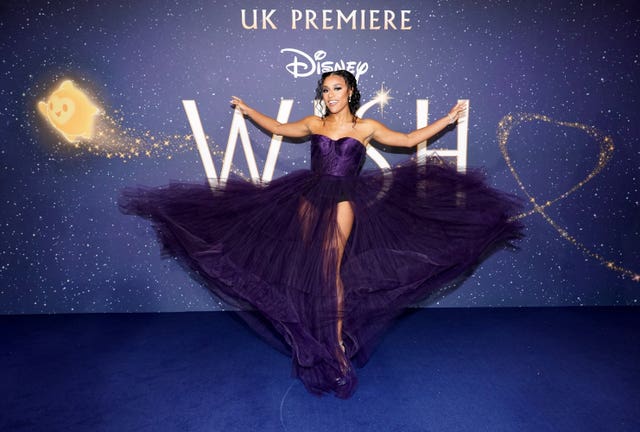 The West Side Story star said she hopes the audience is reminded that dreams and wishes are within reach.
"Your dreams don't work unless you do, but if you put that good energy into the world and you do the work, your wishes absolutely have the capacity to come true," she said.
Among those posing on the red carpet was The Saturdays star Rochelle Humes, who plays a self-titled character in the upcoming film.
It comes after her husband Marvin Humes entered the I'm A Celebrity… Get Me Out Of Here! camp on ITV.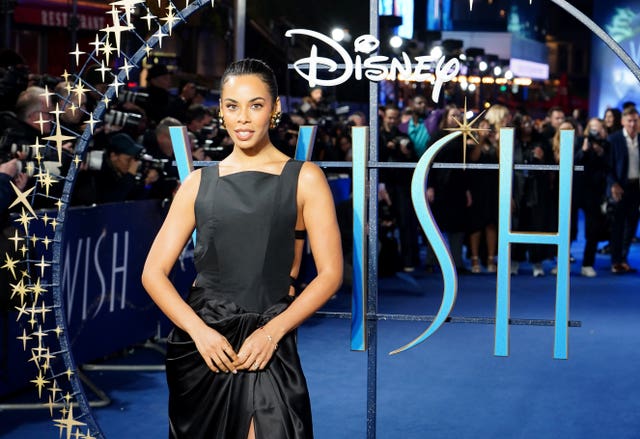 Wish is directed by Fawn Veerasunthorn and Chris Buck.
Buck, who directed the Disney Frozen film franchise, told PA: "The idea came up when we knew we were doing the 100th anniversary film, we knew we needed a concept, we were going to do an original movie with original story characters and songs but we needed a concept.
"And that's where we penned up a still from each of our movies on one bulletin board and you could see the common thread and that was a character wishing upon a star."